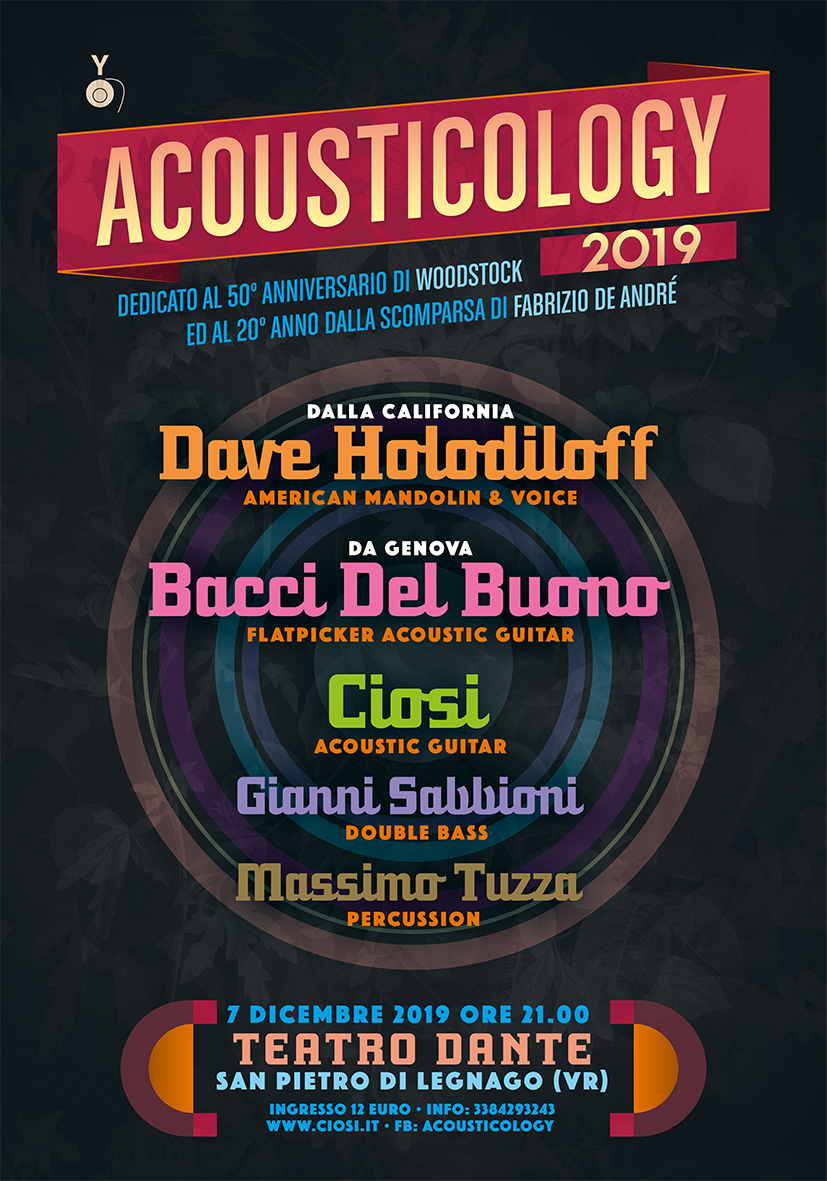 "Acousticology è una rassegna teatro-musicale, ed è un evento idealizzato da un gruppo di appassionati di musica acustica…"
Acousticology 2019
Saturday, December 7, 2019 at 9.00 pm at the Dante theater in San Pietro di Legnago (vr) will take place the sixth edition of Acousticology, an exhibition dedicated to acoustic music especially to the flatpicking guitar.
This edition will excel the presence of the American mandolinist Dave Holodiloff, a 360-degree artist, multi-instrumentalist, composer, singer and showy of the bluegrass mandolin, ethnic, jazz and blues.
Dave will present his latest album "Dave Holodiloff Band" and he will talk about his instrument, the history of the American mandolin and he will remember some Woodstock songs to celebrate the fiftieth anniversary of that magical night.
From Genoa there will be the great flatpicker and virtuoso Bacci del Buono who will present his new album "Coffee Beans" where interesting guitar picks will be played.
In addition to his recording work, Bacci will pay homage to the twenty years since the death of Fabrizio de Andrè with some of his works interpreted in Genoese dialect and arranged for a plectrum acoustic guitar.
Ciosi as well as presenting and directing the evening will duel with the artists Dave and Bacci, flanked by the double bassist Gianni Sabbioni and the percussion master Massimo Tuzza, who will have the space to accurately savor the essence of their instruments.
In addition to the surprises and novelties that the show will punctually offer, there will be the awarding of the prize to music critics to 2 great personalities of the sector:
Massimo Ferro: journalist, speaker and host of the program www.highway61.it
of Radio Voce Spazio.
Matteo Paiato: musician, popularizer and musical blogger of www.guitarblog.it.
We invite you all to support this beautiful show organized and self-produced by acoustic music lovers who have created a large family of fans in many editions.
From November 20 to December 6 you can buy the ticket with a numbered seat by writing to info@ciosi.it or by calling 3384293243.
Price 12€ per ticket