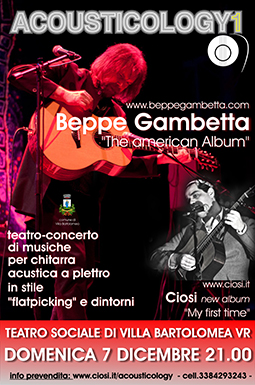 "Acousticology is a theater-musical review, and it is an event idealized by a group of impassioned of acoustic music."
Acousticology 2014
The first edition has been a real success.
In date December 7 th 2014, in the Social Theater of Villa Bartolomea (VR) at 21:00 o'clock, Federico Franciosi, better known with the nickname "Ciosi", he introduced to the public his first disk, only composed by acoustic music, entitled "My First Time."
This first job introduces 9 performed songs played and composed for alone guitar plectrum acoustics and 2 passages for alone acoustic guitar signed by Beppe Gambetta adn Massimo Varini. Every passage has been performed with the acoustic guitar while in the background of the theatre some photos pertinent to the theme of every song come in succession; this movement has had the purpose to make the listener in a more accurate attention in to understand the message that the acoustic music gives to the people. The "clou" of the evening has been the apparition of Beppe Gambetta. Gambetta is considered one of the best guitarists in the world and especially the best italian guitarist known in the world.
Big lover of the universal popular folk music and one of the best executor of the  style called flatpicking (guitar player with plectrum) and so he honours all that this style and this kind of music given at the world, that is bluegrass, old time music, folk, big teacher as Doc Watson, Norman Blake, Tony Rice, Dan Crary and many others.
Further to have given us some music flatpicking, Beppe has performed some historical passages of his and he has introduced some jobs of his last album, entitled "The American Album". 
The evening is concluded with some passages played together by Ciosi and Joe that have involved the public up to the end.