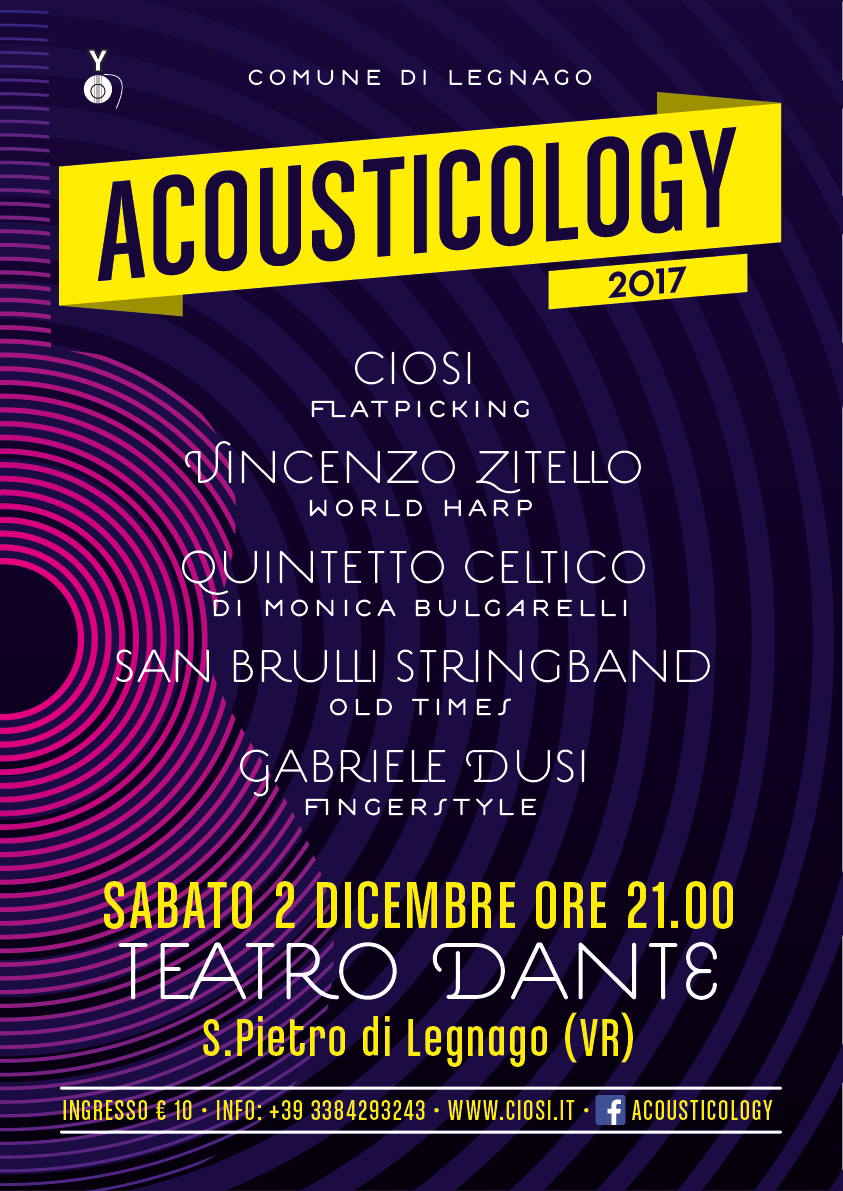 "Acousticology is a theater-musical review, and it is an event idealized by a group of impassioned of acoustic music."
Acousticology 2017
December 2nd 2017 is developed the fourth edition of "Acousticology" at the Dante theater of St. Pietro of Legnago in the province of Verona, concert idealized by a group of impassioned of acoustic music.
the young guitarist fingertsyler Gabriele Dusi has opened the evening with his new disk "Startin'point" honoured from the guitar introduced and signed by the lutist Paul Cavallaro.
This year the event has wanted to associate the presence of the acoustic guitar with the Celtic harp, stupendous tool, full of harmonious intensity and for the note we have had as guest the greatest existing harpist: Vincenzo Zitello.
Vincent has introduced his last job from the title "Metamorphose", besides he has delighted and enchanted the magnificent public with his only mastery worthy of a great as musician more than we have rewarded the teacher with the official Plate of Acousticology.
Another special guest has been Monica Bulgarelli with her Celtic Quintet, formed by her best students, which have introduced their new disk "Welcome" between Celtic air and American sonority.
In end from Milan have played the San Brulli string band, students of the old time music and American ballad of beginning 900.
The public has stupendously been satisfied some evening, introduced to 360 degrees by Ciosi that he has played between a guest and the other with his liking and his inevitable 1934 d mahogany santa cruz.
A thanks it goes to the fonicis Cristian Codenotti e Davide Sarti, to the photos of the scenography of the great Filippo Bellini, technical lights Luca de Biase, Back liner Michele Olivieri, assistant artist Giovanni Moriggi, collaborators Silvia Picchi, Stefano Guerra, Elena Tibaldi, Sally Bettoni, Cinzia Franchini, Roberto Gallo, Max and especially to the sponsors.
Thanks
Acousticology staff