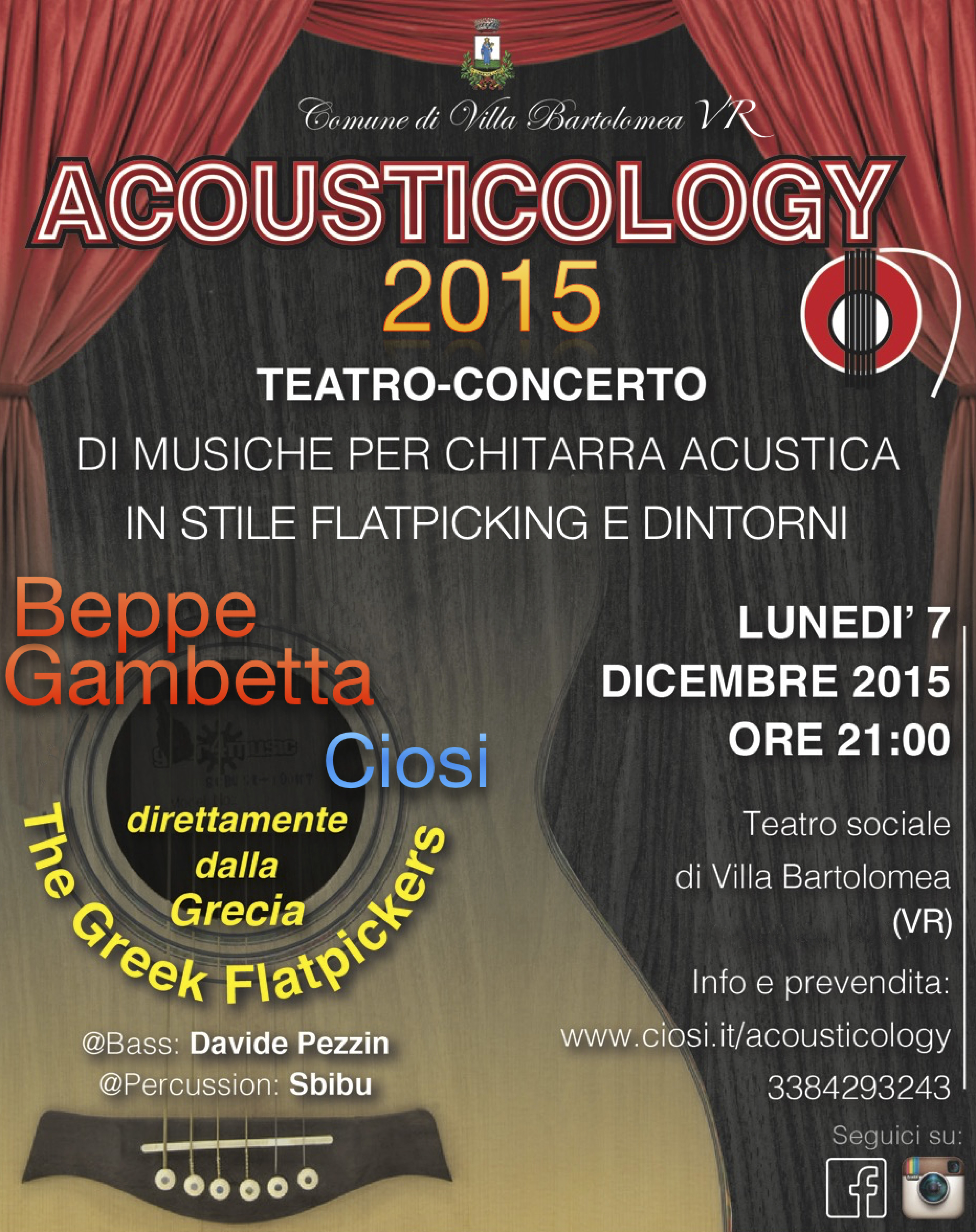 "Acousticology is a theater-musical review, and it is an event idealized by a group of impassioned of acoustic music."
Acousticology 2015
The second edition of "acousticology"is developed at the social theatre in Villa bartolomea (Vr) at 7th December 2015, this year there are many artistic news as the partecipation of Ciosi accompanied by the magic percussionista Sbibu and the good electric contrabassista Larry Mancini, which have introduced the best pieces of bluegrass and the repertoire of Ciosi, who has enchanted the public with the show of songs as "to my son" and "transatlantic" extracted by his album "My First Time" and honour the great Doc Watson singing the songs "sitting on the top of the world" and the mythical piece blues "sliding delta."
To remember the good job to the lights directed by Luca Of Biase and the directionof the video of Alessio Zanardi.
News of the evening has been the Greek Flatpickers alias Yiannis Gougourelas e Kostas Liagkouras, a "duet" of guitarists from Greece that have thrilled the public playing the best of the repertoire bluegrass, old time and country with a perfect charisma for the evening.
The return of the master Beppe Gambetta was required, after the great exhibition of last year, the whole public has sustained him, hailed and praised for its career and for its cleverness. Beppe has performed various passages of his magnificent repertoire adn played song of flatpicking with Sbibu and Mancini, he finished the concert with all the musicians in the stage performing the standard fiddle tune "forked deer" with Ciosi and the Greek flatpickers.
In the end of the showthe president and the founder of ACOUSTICOLOGY , Davide Moriggi has delivered the plate "acousticology" to Beppe Gambetta as prize of thankfulness to have spread in the world the acoustic music, to have taught the art of the flatpicking and to have given in thousands emotions of people giving birth to born the passion for this magnificent tool that is the acoustic guitar.